The world of gambling has always been one heavily entwined with smoking, cigars in particular. The quintessential notion of a high-stakes tournament involves men with hats and sunglasses smoking cigars while making their next move. Different cigars have come and gone throughout history, in terms of popularity, and to each their own. But what about gambling? What cigars are most popular among famous gamblers? Depending on the location of the gambling event, famous gamblers have been seen smoking a variety of stogies from Cuba, the Dominican, and Nicaragua.  
There are many different brands but one of the most famous is Romeo y Julieta. This is the iconic Cuban brand that originated in 1875. There are now handmade editions in Nicaragua and the Dominican Republic so that they can be sold in the United States where imports directly from Cuba are not allowed. This is one of the most popular cigars among famous gamblers and anyone else because of the boutique blending, aged Indonesian wrapper leaves, and Dominican taste.
San Cristobal is another famous stogie scene in the hands of gamblers, a premium Nicaraguan cigar. This is a brand that has five different Blended leaves with a great deal of complexity, spices, and tastes of things like hickory, cocoa, and coffee.
Ashton is of course a world-renowned brand for high-end quality and taste. There are seven different blends available today. This brand was launched in the 1980s and started by a legendary cigar maker known for presenting premium Aromas and flavors from the Dominican.
Arturo Fuente represents a Cuban cigar that started in the early eighteen hundreds and is still carried on for Generations later by the same family. The modern cigars are one of the premium cigars in the world with a wide range of blends like the Gran Reserva, Hemingway, Chateau series, and Don Carlos.
Oliva is a Nicaraguan brand that is among some of the most popular cigars. In fact, in 2017 1 of the blends from the Oliva brand was considered the second best cigar of the year.
 Padron has been named one of the top cigars of the year on multiple occasions. This is a Nicaraguan cigar with earthy tones like cinnamon, Cedar, cayenne, and leather. You can find padron cigars in stunning boxes with a variety of prestigious blends like the family reserve, anniversary, and 80 years. 
Cuban cigars are among the most prominently seen in historical famous gamblers hands but today, those listed above particularly from the Dominican and Nicaragua represent the most commonly seen cigars in the hands of famous gamblers in the United States where the import of Cuban cigars is not allowed.
Kerry Packer
Kerry Packer was a billionaire and a famous fixture in Las Vegas, the mogul who made more money than most playing his favorite games and gambling across a multitude of Institutions around the world. He was very well known for smoking cigars while he was in the middle of the action, sitting at a table playing cards.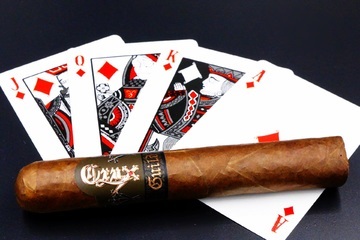 Al Capone
Then there was Al Capone. He remains one of the most famous gangsters in history, heavily involved in gambling, bootlegging, and prostitution in the 1920s. Upon his arrest for tax evasion he lit up one of his favorite cigars but until that time was regularly featured smoking Cuban cigars while sitting at a card table. 
New Casino Options for Cigar Smokers
Unfortunately, things have started to change. There are only certain cities where smoking is unacceptable indoors which means not everyone is allowed to enjoy their favorite cigars while participating in a tournament or other casino games.   Nonetheless, there are solutions. When restrictions and land-based casinos get in your way of smoking your preferred cigar, you can transition toward online casinos with live dealer games. When you play at the best online casinos for real money, you can enjoy the environment and atmosphere of a traditional game where you get to play other competitive gamblers from around the world in tournaments worth thousands of dollars. These tournaments involve live dealers at an actual table with physical cards. The only difference is you are not physically seated at that table. Instead, you are playing from your home, sometimes with a webcam and you are watching all the other players who are actively participating as well. This alleviates any restrictions you might face in allows you to smoke whatever you want, as often as you want.